I've been feeling this need to fill up my life with good vibes lately. With this goal in mind, I've been loving comedy and journaling (no surprise there). Surprisingly, I'm becoming better at completing the tasks that need checking off which has also been a plus.
Comedy: Fuller House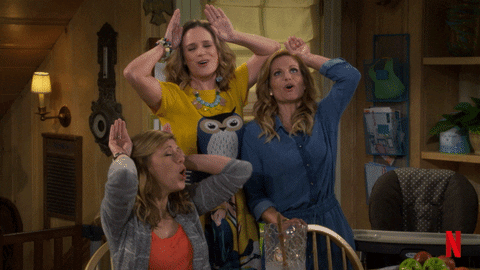 Are you a Fuller House fan? If you don't know, Fuller House is a sitcom based on the original version called Full House. When I was younger I used to watch Full House with my family. At one my point, everyone in my family was saying: You got it dude!
The Fuller House cast feels like part of family, and, even though, I don't think every single line is funny and I'm not a fan of every single character, I love how the show is full of fun and loving vibes.
I also like how every character has a defined personality. Kim has a weird personality, but she embraces it and doesn't care what others think of her. And Max is super smart and will probably rule the world one day. Do you have a favorite Fuller House character?
Journaling
I spoke about choosing 3 words for the month of May in the blog post called "Balance, Passion, and Strength" (a new practice that I learned from Teja's blog StarFire Teja in her post called "StarFire Teja's StarFire Friday Blessing: May You Align With Your Deepest Wishes").
Choosing 3 words again this month felt like a calming process because I'm in the middle of moving and getting a new job.
In a journaling session, I wrote the words fear, worry, doubt, anxiety, and insecurity. To counter these, I chose the words love, trust, and peace for the month of June.
love, trust, & peace
Things that bring me love, trust, and peace:
meditate, workout, eat well, sleep well, journal, write, nature, family and friends, let go, pray, set intentions, presence, yoga, be of service, gratitude, connection, The Four Agreements, focus, strength, tenacity
Getting Things Done
I've been on a roll with getting things done. This is surprising because I tend to be a procrastinator. It's not so much that I've been getting a lot of things done, but I've been doing what needs to get done as in the following examples:
Donating or throwing away the things I was no longer using
Getting the stuff done required by work way before the deadline
Adding important dates to my planner (believe it or not I've yet to make a habit of using an electronic version of a calendar like Google calendar)
What's one thing you've been loving lately?